How the Philadelphia Media Founders Exchange supported local media entrepreneurs in 2022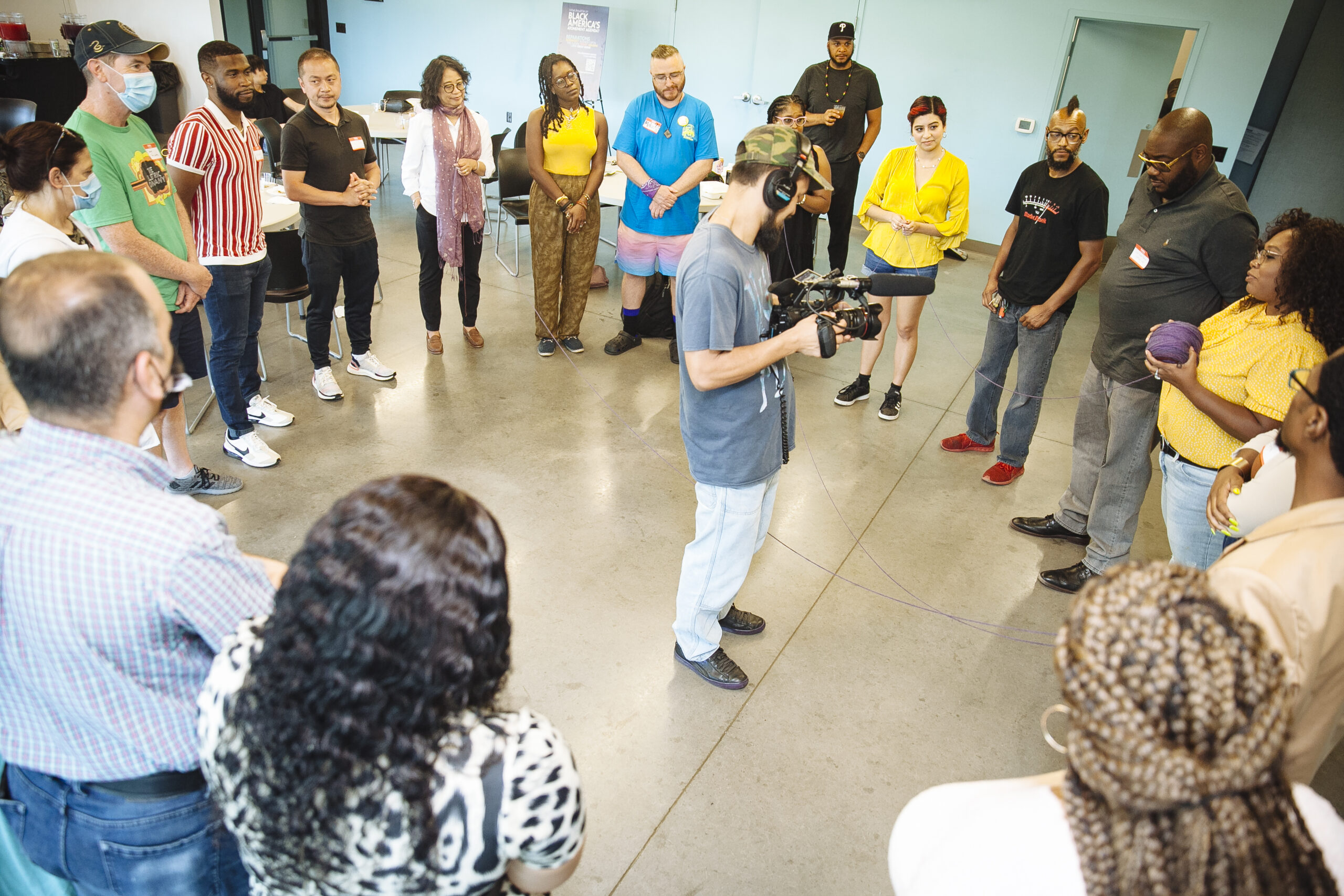 Participating founders reported leaving the program with increased confidence as business owners and a better understanding of their business models, customers, and audience
When Lauren Settles founded We Talk Weekly, a multimedia news company, at the start of the COVID-19 pandemic, she had a clear goal to amplify positive Black narratives in Philadelphia. But getting the resources needed to expand to new audiences and produce the type of coverage the We Talk Weekly team envisioned was a challenge.
"The problem we wanted to solve was building a stronger business that has several streams of revenue to make the organization more sustainable and efficient," Settles said. "We believe that our organization is a vital fixture in Philadelphia's local news ecosystem."
In March 2022, she was accepted into the Philadelphia Media Founders Exchange, and received support that would help We Talk Weekly grow into its important role.
Settles was one of 11 Philadelphia-area media entrepreneurs of color who participated in the Founders Exchange which was designed to support Black, Indigenous, and other people of color (BIPOC) media founders whose work empowers communities to tell their own stories, and to equip the founders with resources to create more sustainable revenue models for their businesses.
The Philadelphia Media Founders Exchange is supported by The Lenfest Institute for Journalism, the Knight-Lenfest Local News Transformation Fund, and the Independence Public Media Foundation. From March to July 2022, PMFE provided intensive training, a community of practice, one-on-one coaching, and multiple rounds of funding to a diverse group of media entrepreneurs with businesses that utilized a range of content mediums spanning video, film, radio, podcasting, social media and print.
By the end of the program, PMFE participants' projected budget needs increased by 145%, a boost that reflected their development of scalable models for business growth. As one cohort member said, "Before this program, I was never forced to rethink my business model, brand, or marketing pitch. During the program I had to spend time doing all of that, and I am very thankful that I did. This program not only gave me the funds to be able to do the projects we were planning to do, but also gave us the tools to do them, and more."
PMFE consulting partners Zebras Unite Co-op, Love Now Media, and Black and Brown Founders implemented training and coaching to help the entrepreneurs with revenue generation, budgeting, identifying and segmenting customers, and planning for long-term sustainability.
To highlight the initial successes, learnings, and outcomes from PMFE, we are today publishing interviews with seven of the entrepreneurs — Jean-Pierre Brice, Indah Nuritasari, Shameka Sawyer, Anis Taylor, Kaia Niambi Shivers, Kristal Sotomayor, and Settles  — who share replicable lessons and insights into how they're planning to continue to grow and sustain their businesses. We're also publishing a comprehensive report from Zebras Unite, which shares insight into how we created and built the PMFE program for others who may want to replicate the work in their own community. 
The inaugural PMFE cohort featured seven members who identified as Black or African-American, two who identified as Asian or Asian-American, and two who identified as Hispanic or Latinx, with one of those members also identifying as Indigenous. Ranging in age from their 20s to their 50s, these entrepreneurs had, on average, been in business for four to five years.
The vast majority entered PMFE leading small-scale businesses, with only one reporting annual revenue of over $70,000 at the start of the program. Over the course of the Founders Exchange, the average annual operating budget grew from $43,545 to $106,909.
As feedback from participants demonstrated, the program also supported a change in perspective about how these entrepreneurs view themselves in relation to their business, encouraging them to move to a mindset that ensured they were drawing a salary, learning to delegate by bringing on team members, and questioning their assumptions.
"Through conversations with the cohort and my coach, I was able to better understand what my role in our business should look like. I've created more time to work on business development… [which] has allowed [us] to take on more projects, increase our capacity, and increase our revenue," one cohort member said.
Applying this coaching made a visible difference. Rating their progress on a 1-10 scale, the founders reported on average that their understanding of the company's value rose by 2.2 points, the clarity of their business models rose by 3.6 points, their understanding of the customers rose by 2.5 points, their understanding of their audience rose by 2.6 points, and their confidence as business owners rose by 3.4 points.
Participants grew both professionally and personally. For example, Chester radio station CMP Radio founder Jean-Pierre Brice secured two sponsors in addition to adjusting his time management to allow him to spend more time with his family. Shameka Sawyer's production company, 5 Shorts, received the Sachs Program for Arts Innovation Alumni Award from the University of Pennsylvania. Several members also combined their business' resources to partner within the cohort, like the production collaboration between Joshua Meekins of Mike Jay Films and Sofiya Ballin of Black History Untold.
As for Settles, she received a grant from Comcast to run ads on Comcast's platforms. She also budgeted for her team's own pay as well as that of a new intern, freelance journalists, and contracted staffers for a forthcoming project investigating voter suppression. In addition, she formed key coworking and content partnerships with her fellow cohort members at the Indonesian Lantern and Higher Than 7, and she learned to delegate leadership duties to her team instead of handling everything herself.
"PMFE forever changed our lives and our business," Settles said. "It opened our eyes to seeing how much our community needs us and how they value the work that we do."