Bill Grueskin
Professor of Professional Practice, Columbia Journalism School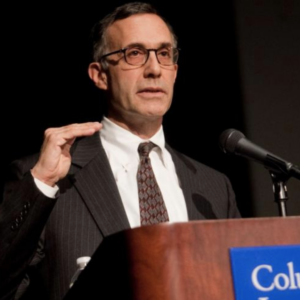 Bill Grueskin is a Professor of Professional Practice at the Columbia Journalism School.
Grueskin began his journalism career as a reporter and editor at the Daily American in Rome. He then served as founding editor of the weekly Dakota Sun on the Standing Rock Sioux Reservation in North Dakota. He worked as a reporter and editor in Baltimore and Tampa before moving to The Miami Herald where he eventually became city editor. Bill also spent 13 years at The Wall Street Journal, holding a number of editorial positions including deputy Page One editor and managing editor of WSJ.com.
He went to Columbia in 2008 as Academic Dean. At the Journalism School, he oversaw a dramatic transformation of the curriculum, designed to give students more flexibility to focus on skills ranging from video to data visualization to long-form digital journalism. In June 2014, he was named an executive editor at Bloomberg, overseeing efforts to train the global news staff to reach broader audiences across digital platforms.
He is also a lecturer at Stanford University where he teaches a class with another Lenfest Board member, Tony Haile.
Grueskin has a B.A. in classics from Stanford University and an M.A. in international economics and U.S. foreign policy from Johns Hopkins School of Advanced International Studies