How The Dallas Morning News builds subscriber loyalty with a Facebook Group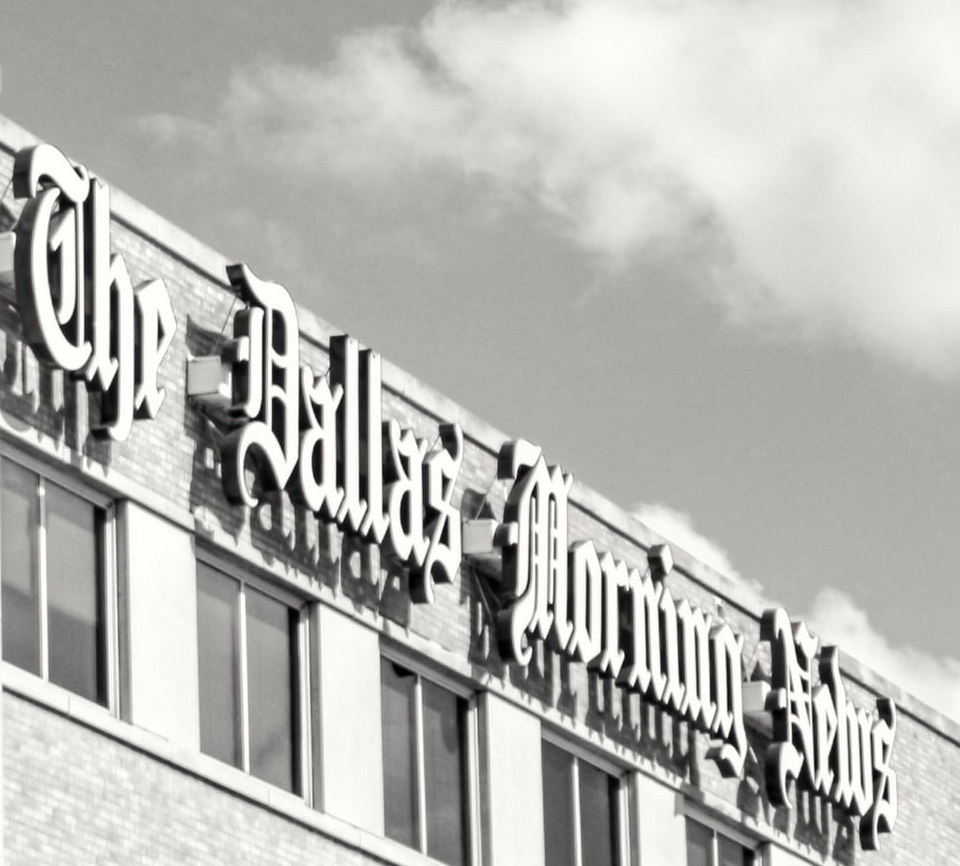 The Dallas Morning News has created a Facebook Group for its subscribers. It's a way to grow loyalty among those who pay for its journalism and give them more direct access to the paper's journalists and editors. Members of the group also get exclusive benefits such as tickets to events and other perks.

You're reading Solution Set, a new weekly report from The Lenfest Institute for Journalism and The Solutions Journalism Network. Every Thursday we take a deep dive into one awesome thing a news outlet is doing and highlight lessons worth sharing.
This is the second part of our two-week look at Facebook Groups. Last week we studied how Vox uses Facebook groups to build community. If you missed it, or any of the other earlier issues of Solution Set, you can catch up or sign up here.
In this issue, we're looking at how the Morning News built its subscriber group and how the newsroom and marketing departments collaborate to run it.
Here's the TLDR version:
---
TLDR
• The Challenge: After launching its metered paywall in 2016, The Dallas Morning News' newsroom and marketing departments were looking for ways to strengthen relationships with their most loyal subscribers.
• The Strategy: The Morning News created a Facebook Group to facilitate discussions among subscribers and connect them to the newsroom. It also offers them exclusive promotions and deals.
• The Numbers: There are more than 1,300 members in the subscriber Facebook Group. The Morning News has more than 24,000 digital subscribers.
• The Lessons: For the group to succeed, it required buy-in and regular communication among departments. Subscribers appreciate the responsiveness and the ability to speak with the journalists.
• The Future: The paper wants to hire a marketing staffer to expand its use of social media and facilitate more IRL connections.
• Want to know more?: Learn how other news orgs are trying to foster loyalty.
• Anything to add?: A local political reporter shares how he created a vibrant community in a group.
---
Now, let's dig in a little deeper:
The Challenge
The Dallas Morning news has made a big bet on digital subscriptions. It launched its pay meter in May 2016. "Our industry went so long giving away a valuable product for free," editor Mike Wilson said at the time.
As part of its commitment to subscribers, the Morning News newsroom wanted to find a way to offer its most loyal readers additional value and increased access to the newsroom.
The paper's marketing department, meanwhile, was looking to grow Plugged In, its subscriber loyalty program. Through Plugged In, the Morning News gives away free tickets to sports games and behind-the-scenes experiences along with other events such as movie screenings and tours of the Morning News' offices and printing plant.
All of Plugged In's communications with subscribers had been via email, but it wanted to have a more interactive forum where subscribers could share photos and discuss their experiences.
---
As both the newsroom and business teams were looking to have increased interactions with subscribers, they individually began looking at how to use Facebook Groups for that purpose.
Morning News engagement editor Hannah Wise told me in an email that she wanted to experiment with a Facebook Group because the paper's subscribers tend to skew older, and most of them are already on Facebook.
"A group seemed like a low-cost way to test if our subscribers even wanted to talk to us since they have habits built around joining Facebook groups, liking content and reacting in the comments," Wise said. "Building something completely new that had similar functionality and then training the audience how to integrate it into their lives seemed like too high a hill to climb."
The newsroom and business staffs discussed how both were looking at the prospects of subscriber-oriented Facebook Groups and they decided that it made the most sense to have a newsroom-driven group that the loyalty marketing team could also access and use to promote subscriber benefits.
The closed subscriber group launched in September 2017. It's a private group and prospective members have to answer three questions in order to join: How long have you been a subscriber to The Dallas Morning News? What topics are you most interested in? What part of D-FW do you live in? Based on their answers, Wise will approve or reject applicants.
Within the group, members will discuss the news of the day, ask questions about the Morning News' reporting, and, yes, sometimes complain about customer service issues. Moderators approve the main posts that go to the group.
Wise and other Morning News staffers — including Wilson, the paper's top editor — are admins in the group and will jump into conversations with readers. Recently, for instance, Wise said that members asked questions about the impact of Amazon potentially moving its HQ2 to Dallas and also about a murder and kidnapping that happened in Dallas last summer.
"In both instances, I thanked the subscribers for the thoughtful questions, tagged the appropriate reporters in the comments and then the reporters took it from there answering the questions and engaging in further conversation," Wise said.
Customer care issues are handled by the marketing department, which has a team of five people that handle the Facebook group. Each is assigned one day of the week and on their day, they monitor the group and respond to customer queries. If someone complains about an individual billing issue, for example, they won't approve the post and will respond to them individually, but if it's something that affects many readers, they'll let it go through and share the comments more widely.
But the primary role of the group for the marketing team is to promote the loyalty program. They will post early access to events and exclusive offers for subscribers in the group. If the paper received last-minute tickets to a game or other event, it'll share them in the group. However, it wants to make sure that it's "not rushing a ton of people into a bad experience" and will only post things that make sense for the group, Leslie Lauhon, the Morning News' director of loyalty marketing, told me.
The Morning News just moved into a new office in downtown Dallas and next month it is going to hold a flag-raising ceremony to commemorate the opening of its new space with civic organizations, local elected officials, and other pageantry. Group members will be invited, too.
"Here's a special exclusive opportunity to be hands-on with the news," Lauhon said. "They'll identify one subscriber to read through some special remarks about journalism and the free press…That's how we kind of use the Facebook Group — for subscriber perks and rewards."
---
There are more than 1,300 members in the Morning News' subscriber group. The paper has more than 24,000 digital-only subscribers. (Print subscribers can also activate digital access.)
To attract new subscribers, the Morning News promotes the group in emails to subscribers about the Plugged In program. Information about group is included in welcome emails for new subscribers. Wise also wrote about the group on the Morning News' website around the time it launched.
"I don't know that anyone has subscribed because of the Facebook group, but I do know that new digital subscribers are joining based on the information they provide in their applications to the group," Wise said.
Wise is the point person running the group. She spends about 20 percent to 25 percent of her time managing the group. The group gets up to 10 applications to join each day, and sometimes more after a promotion email is sent out.
Though she didn't have data to share, Lauhon said that the group has probably helped grow attendance at the Plugged In events. "Directionally it's probably helped," she said.
The subscribers group is one of seven groups the paper runs. Other groups include Literary Dallas, which discusses books; Questions of Color, covering race and identity; and Dallas Geeks, which is all about nerd culture.
---
The Lessons
• Communicate. Communicate. Communicate: One of the unique things about the subscribers group is that reporters and editors engage directly with readers in a way that's often more substantive than on Twitter or other platforms. And the group members say that it's something they value.
"I appreciate the ability to comment and receive answers," group member Veda Kull said. "With so many journalists going to Twitter accounts only it leaves those of us without such an account no forum for expression."
"I too like the fact I can comment and get feedback right away," said member Liz Donohue Ehrsam. "Letters to the editor don't give the same sense of discussion."
(Wise posted in the group earlier this week asking members to offer feedback for this report.)
However, it took some work for Wise to convince newsroom staffers to contribute regularly to the group. She emphasized that the members of the group are the most engaged readers.
"The folks in this group are some of the most highly engaged readers we've got — the subscribers also love to give compliments, and what journalist doesn't like to be reminded that people care?" she said.
When you're trying to get newsroom buy-in it helps to have leadership on board and it's also worthwhile to highlight successful examples to illustrate why people should care.
• Get to know other departments: One of the reasons the Subscribers Group has succeeded is because it's been a collaboration between the newsroom and marketing department from the start.
Each group recognized they have the same overall goal — to make the subscriber experience better — and decided to work together to achieve it. A key to this realization is that the paper's culture has become laser-focused on subscriptions. Everyone, no matter the department they work in, knows that subscribers are key to the Morning News' long-term sustainability. (We'll be covering culture change in Solution Set next week. Stay tuned.)
"The past couple of years has starting to pay off as far as internal evangelism around, 'hey we need to do more with subscribers, we need to include subscribers, we need to create events for subscribers," Lauhon said. "It's starting to get to a point where we're clicking a lot and we've got real co-operation and the newsroom is starting to think about us instead of just writing a story and walking away."
They still understand though that there needs to be editorial independence in the newsroom and that everything needs to be done ethically. With regards to the Facebook group, the marketing team will always check with the newsroom before it posts an offer for tickets or something to make sure it doesn't interfere with their editorial plans.
• Transparency goes a long way: A few weeks ago, the Morning News made an error in a subhead. A reader posted it in the group. Wilson quickly replied. He thanked them for pointing out the error, explained that the mistake resulted from an editor moving too fast on deadline, and then said that a correction would be posted in the paper the next day.
Morning News journalists have also explained the processes behind their reporting and shared other details about how the paper is put together each day.
"I have learned more about the organization of the DMN since joining this group than I had learned in 34 years as a subscriber," subscriber Carole King Krueger said.
By giving readers a peek behind the scenes at how the news is made, journalists can build trust with their audience. And if readers trust and feel committed to their local news organization, they'll likely be willing to support it and pay for their news.
• Recognize Facebook's role: There have been many discussions across the news industry recently about Facebook's role. The amount of traffic publishers receive from Facebook has fallen recently, and it will likely continue to fall as Facebook de-emphasizes brand pages in the News Feed.
While most outlets use their main Facebook page to try and drive traffic to their website, that's not a primary goal of the Morning News Subscriber Group. Instead, it's trying to foster conversation and build relationships between subscribers and the paper. And the Morning News decided that Facebook was the right platform for this effort because, given the demographics, a large portion of its subscribers are already on Facebook.
"If my subscriber group were teens, not their parents or grandparents, Facebook may not have been the best choice," Wise said.
The paper is also able to take advantage of Facebook's strengths. The marketing team will create Facebook events within the group, and members will be able to RSVP and get a notification to remind them of the event. "It creates buzz within the group," Lauhon said.
The Morning News is building community on its own platforms as well. The paper recently began working with the audience engagement service Hearken, which invites audience members to ask questions that direct and inform an outlets' reporting.
• Expand the definition of news: To build those connections, Wise has broadened how news is traditionally defined.
She'll regularly ask members of the Facebook Group to share good things that have happened to them. Members have posted about visits with family, trips to the Texas State Fair, and more. One member even shared that at 62 years old she graduated from community college.
"I genuinely care about the subscribers as people and I think they are reciprocating that care to our journalists. News can be awfully negative and I think they appreciate the invitation to comment and share something they find joyous, whether it be celebrating another day of sobriety or the birth of a grandchild," Wise said.
---
The Morning News hopes to grow the Facebook Group. To achieve that, the marketing team wants to hire someone focused on engagement and to handle customer requests on Facebook and other platforms.
The paper also wants to find ways to help facilitate more in-person gatherings. This week, Wise is leading a newsroom tour for subscribers and she's planning other events and conversations to expand dialogue in the group.
"I'm thinking about ways to facilitate conversations about news literacy, the issues the modern news industry faces and what it means to cover a very large but very local community," she said. "I haven't quite figured out what that looks like yet, but increasing understanding about how we do what we do and why is weighing heavily on my mind this year."
---
Here are some additional resources if you'd like to learn more about how Facebook Groups can be used to build loyalty:
• The Times of London is using Facebook to drive subscriptions. Here's Digiday's report.
• In 2016, The Boston Globe started a Facebook page for its subscribers. The group saw much more interaction than its main Facebook page, according to a report in Nieman Lab.
• Publishers should be thinking about Facebook Groups in the context of the recent News Feed changes. Ned Berke, entrepreneur-in-residence at the Tow-Knight Center for Entrepreneurial Journalism, wrote a post about how small outlets should approach Facebook now.
• Additional community engagement ideas can be found on Better News, a resource from the American Press Institute that's part of the Knight-Lenfest Newsroom Initiative.
---
Anything to add?
Last week, I asked for examples of successful Facebook Groups.
Dan McGowan
, a reporter with WPRI in Providence, Rhode Island, shared this example of how he launched
a group
in 2014 around the city's mayoral race. The group now has more than 6,000 members:
I fully admit that I only started the group because I wanted to have a place to promote some of my reporting during that race. I planned to treat it like Twitter. While plenty of my reporting makes the front page of our website, stories about candidates' proposals to fill potholes more efficiently weren't exactly getting prominent placement. At first, the group was just filled with hardcore supporters of the candidates and so there was a lot of arguing and opposition research getting posted. I quickly stopped allowing members to post their own content and then I set some basic rules for commenting: no swearing, no insults and stay on topic.
It took a little while, but people started to really appreciate the way I moderated the group. Before long, members were self-policing. We still have plenty of arguing and the occasional obnoxious commenter, but there are so many thoughtful conversations that happen as well. Virtually all of the city's chattering class – including every elected official in the city – monitors the group on a daily basis.
Have any other examples? Want to tell me what you think of Solution Set? Are the issues too long? Send me an email: I'm at [email protected].
I'll share some of the responses in next week's edition or on social media.
See you next Thursday!
Creative Commons photo of The Dallas Morning News' former headquarters by Neff Conner.