A pop-up newsroom in Canada is taking a slow journalism approach to local news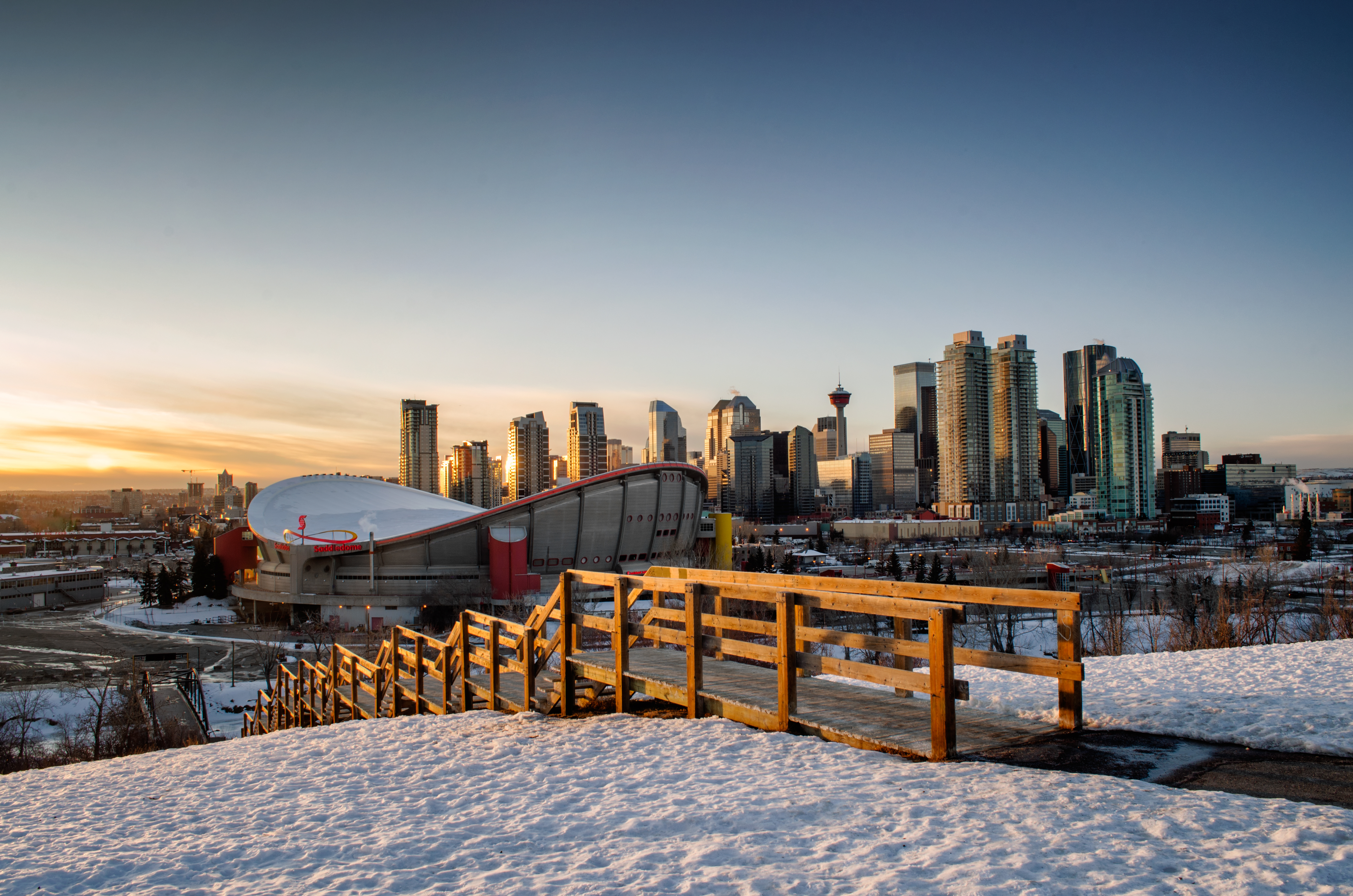 Last September, journalist Jeremy Klaszus launched a new online news publication. After one successful month of coverage, he closed the site down. This was the plan from the beginning.

Klaszus created the site, The Sprawl, as a pop-up journalism experiment. He wanted to cover Calgary's municipal elections and that's it. But given the positive response, he decided to continue publishing. The Sprawl now pops up to cover a topic for a few weeks and then pops down once its reporting is done. He's about to launch the fourth edition of The Sprawl this month.
This week in Solution Set we're looking at The Sprawl's slow pop-up approach to journalism, discuss how Klaszus is involving readers in its coverage, and examine how it's looking to grow.
Solution Set is a weekly report from The Lenfest Institute for Journalism and the Solutions Journalism Network. Every Thursday, we take an in-depth look at one awesome thing in journalism, share lessons and point you toward other excellent resources you can learn from.
A couple quick corrections from last week's issue on The Bristol Cable. I wrote that the Cable applied for a Google Digital News Innovation grant and didn't get chosen. That was wrong. The site's members voted to apply, but they ended up not submitting one because the deadline was too close. I also got Lucas Batt's title wrong; he's the membership and web coordinator. Sorry about that!
Now that that's out of the way, let's get on to this week's report.

Here's the TLDR version of what you should know about The Sprawl:
---
TLDR
• The Challenge: Freelance journalist Jeremy Klaszus wanted to help fill gaps in Calgary's journalism ecosystem in a meaningful way.
• The Strategy: Klaszus launched The Sprawl, a pop-up news site that covers single topics in short bursts. This format allows Klaszus to cover stories in an in-depth way without overburdening himself.
• The Numbers: The Sprawl has 376 paying members that collectively contribute $2,583 per month.
• The Lessons: The Sprawl invites readers to help choose the topics it covers and published its core principles in a manifesto. This builds trust and helps readers feel invested in the site.
• The Future: Klaszus is participating in a Facebook-supported program that offers additional funding and mentorship, and he hopes to use the program to help the site grow in a sustainable fashion.
• Want to know more?: Scroll down for more about The Sprawl and the broader challenges facing Canadian journalism. There's also some Arcade Fire.
---
Now, let's dig in a little deeper:
The Challenge
Like many cities across North America and around the world, local media in Calgary, Alberta, Canada is struggling.
The western Canadian city has two daily newspapers — The Calgary Sun and The Calgary Herald — that are both owned by Postmedia, one of Canada's largest news publishers. In 2016, the company merged both of their newsrooms and eliminated jobs to cut costs. (Scroll down to Want to Know More? for more about the challenges facing the Canadian news industry.)
While there are also, of course, local TV and radio stations in the city, Calgary's alt-weekly, FastForward, shut down in 2015 and no publication has replaced it.
"We still have a big gap in our media landscape," Calgary freelance journalist Jeremy Klaszus told me.
Klaszus previously worked at FastForward and then continued to work as a freelance reporter, but he continued to notice that there were fewer outlets to pitch for stories about Calgary.
He decided he wanted to do something about it. But as he looked at the landscape of small local news startups he saw the challenges of going at it alone.
"It starts out with a lot of enthusiasm, big intentions, and initially strong local support," Klaszus said. "But eventually, these people burn out pretty quickly or the sites taper off. So you have situations where the site hasn't been updated in two months or whatever. I didn't want to bring out something that would do that.
Instead, last year he brought out The Sprawl, his own one-man news organization that he designed to feature in-depth coverage without over-extending himself.
---
The Strategy
The Sprawl covers stories in editions. Klaszus will take on one story at a time, reporting on that topic in an in-depth manner for a few consecutive weeks. Then, when The Sprawl has exhausted its coverage of that topic, it'll wrap up its reporting and go into hibernation.
"I cover specific things for specific amounts of time, rather than trying to cover everything all the time," he said.
Klaszus launched The Sprawl last September to cover Calgary's municipal elections. At the time, the idea was that he would cover the election for a month and then shut down the publication.
He knew he didn't have the same resources as the local papers or broadcast outlets, so he decided not to cover the same day-to-day stories as them. Instead, he tried to find stories the other news orgs weren't covering and go deep on them.
"I'm not doing the daily news grind," he said.
After the first month-long edition on the election, The Sprawl re-emerged to cover Calgary's municipal budget planning process for about a week in late November.
The third edition, which launched in January, focused on Calgary's bid for the 2026 Winter Olympics.
Klaszus is planning on launching the fourth edition this month.
The Sprawl is built on a membership model that's run through Patreon. In addition to supporting the site financially, Klazsus has also designed The Sprawl to be participatory and audience driven. He'll post regular updates for paying members on Patreon, and members can use the platform to vote on which topic they'd like to be covered in future editions.
He'll also tweet out where he's working from in the city, and invite readers to come hang out and chat. The Sprawl also holds regular get-togethers. (Scroll down to The Lessons for more on The Sprawl's approach to working with its audience.)
"It's about opening the editorial process to the public and to your audience, which isn't the way I've done it previously at all as a journalist. You might get ideas from conversations from people, but then you go away and do the work and deliver this final product so to speak. This is a lot more participatory, open, and messy. It probably would be easier if I just did my usual reporting thing, which I'm comfortable with and can do okay with, but it's about being okay with uncertainty and opening it up to others."
The Sprawl primarily publishes stories on Medium, but Klaszus will also share stories on social platforms via tweetstorm or Facebook Live. He's also launched a podcast to keep up some coverage in between editions.
Klaszus said he can be nimble and really choose to report on whatever platform makes sense for a particular story.
"I have no beast to feed," he said.
---
The Numbers
The Sprawl has 376 supporters on Patreon. They collectively contribute $2,583 per month to support the site. (That's American dollars — Patreon doesn't operate in Canadian currency.)
Klaszus' goal is to get to $5,000 per month. At that level, he said he'd be able to hire freelancers to help contribute to The Sprawl.
He has gotten some help with coverage, however. In the most recent Sprawl edition, about the Olympic bid, the site published about 15 stories on the topic, and Klaszus worked in partnership with journalism students at Calgary's Mount Royal University.
The Sprawl was also chosen as one of five participants in the Digital News Innovation Challenge, a new incubator for Canadian digital news startups. The program is run through Toronto's Ryerson University and is funded by Facebook's Journalism Project.
The participating organizations receive mentorship and coaching and are also eligible for up to $100,000 in seed funding and $50,000 to market on Facebook.
---
The Lessons
• Make a Manifesto: Last month, Klaszus published an 11-point manifesto for The Sprawl. In it, Klaszus lays out the principles that define the site's journalism and will guide it as it grows.
You can find the full manifesto here, but the 11 points explain the site's approach to coverage (2. We do context, notclick bait), its publishing structure (3. In a world of noise, we embrace quiet), and how it looks to work with its audience (7. We see Sprawlers as engaged citizens and local experts, not passive news consumers).
The manifesto didn't come out of a vacuum, however. Klaszus tweeted out a handwritten draft of the document and continued to solicit public feedback as he worked through subsequent drafts as well.
"It's not enough for me to just do good journalism. If I only focus on doing good journalism, this will not be sustainable," he said. "You have to think of engagement, audience development, and all these different facets. The engagement piece can't be something you just tack on at the end. It's the core thing. If you're not bringing people into what you're doing, I don't see how you can make a go of it."
I really like Klaszus' approach of involving his readers through every step of the process. As journalists, it's easy to forget that our work is in serviceof specific audiences. No matter if you're launching a new product or thinking of a story idea, it makes sense to involve your readers if you can.
And The Sprawl manifesto reads almost like a contract between Klaszus and his readers. It helps them understand what they can expect from him and it tries to explain the importance of independent local journalism without being overly preachy.
"One of the things I've had people say is, 'In Calgary, we tend to get our news from New York, Toronto, and Facebookland, but The Sprawl is Calgary and that's why we support it,'" Klaszus said. "That just connects with people. It's simple. I'm not trying to build some grand institution that goes nationwide or anything like that. This is about this place. People just don't hear that, so when they do hear it they respond positively."
• Prospering with partners: Klaszus partnered with journalism students from Mount Royal University to produce the third edition of The Sprawl. The students were divided into groups, with each of them tackling a different angle of Calgary's 2026 election bid such as the economic implications, infrastructure needs, and security.
MRU journalism professor Sally Haney reached out to Klazsus about a potential partnership with her online journalism class and he quickly agreed. The arrangement made sense for both sides: Klazsus got additional reporting help while the students received mentorship and guidance in the classroom from an established journalist. "The students were plunged into covering stories without the usual lead-up in the semester, which can be a bit slow-paced," Haney told me over email.
Student journalists or unpaid interns shouldn't be a replacement for a fulltime paid reporters, of course, but as resource-strapped outlets look for ways to better cover their communities, they should look to collaborate and partner with other news organizations or even less traditional outlets.
Klaszus said it was difficult at first to give up some control, but it ultimately benefited The Sprawl and created a more exhaustive edition as a result.
"You're giving up control of your editorial process to a degree," he said. "That's tough. As a longtime journalist who's just used to doing my own thing, that's challenging. But different things emerge in that. You invite the community into it — including these journalism students, who are keen to do this — and you end up with something better and more robust."
• Let's take a drive through the sprawl: This is almost a cliché at this point, but it's worth repeating: You can't just report and publish stories and hope they find an audience. You have to think about how you will reach readers and ensure that your story reaches the appropriate audiences.
Klaszus has taken this a step further by asking members to help choose the topics he covers.
"As soon as you go out and say that, people have something to say if you've chosen something that's a matter of civic importance that people are talking about and care about," he said. "It just opens up the editorial process and makes it way more participatory as opposed to just going away and putting together something that might be really high-quality journalism, but if you just send it out the door complete you might have missed something there."
He's also made a point of getting out into the city and meeting people at coffee shops, bars, parks, or wherever they may be. The benefit of being a solo newsroom is that you can work from anywhere, and Klaszus takes full advantage of it.
Literally working in public gives the project more visibility and can help people understand what you're doing and how journalism works.
"People want to see you out in the community," he said.
• I need the darkness someone please cut the lights: Klaszus intentionally designed The Sprawl to take a slower approach to covering the news.
But sticking to an incremental publishing schedule can sometimes be difficult, especially as journalists are used to constantly posting and publishing.
Ultimately though, that format is what makes The Sprawl standout and also what gives Klaszus the time he needs to report out the type of stories he wants to cover.
Given the 24/7 nature of news, there's an understandable desire to constantly be publishing, but slowing things down and thinking about what makes the most sense for you and your publication can help better differentiate your coverage.
---
The Future
The fourth edition of The Sprawl is scheduled to launch later this month.
But beyond the immediate next edition, Klaszus is thinking about what long-term sustainability looks like. The Digital News Innovation Challenge program will offer some additional funding and resources to grow the site as Klaszus looks to grow the audience.
The Sprawl is reaching some of Calgary's most involved news consumers, but Klaszus would like to expand the site beyond its core readership. He's still figuring out how exactly to do that, and he has ideas for different formats or reporting methods, such as a children's edition, that might help accomplish those goals. He's also thinking about whether it would involve hiring full-time staff or other freelancers.
"Right now we have a strong initial base of support, but it's still not enough for this to be sustainable even for just me to do this in the long-term," he said. "It's not enough to just do good journalism. If I take everything that I'm bringing in now and just focus it on, now we can do twice as many stories or twice as much stuff, that won't be enough. You have to do audience development and these other facets of building those relationships."
---
Want to know more?
• Here are two great profiles of The Sprawl: One from CityLab and another from the CBC.• You can learn more about the Ryerson-Facebook Digital News Initiative Challenge here.
• Last year, the Canadian government added $50 million in its budget to support local journalism. Nieman Lab has details on why this was controversial.
• A 2017 report also outlined the challenges facing the Canadian news industry and offered 12 suggestions for how to improve it. Here's my write up of the report, also in Nieman Lab.
• And here is Arcade Fire's Sprawl II (Mountains Beyond Mountains) — their best song, IMHO — that's been stuck in my head all week while writing this report.
---
Anything to add?
Is your news org doing anything cool? What do you think of The Sprawl? What's your favorite Arcade Fire song? Send me an email, I'm at [email protected]'ll share some of the responses in next week's edition.
See you next Thursday!
---
Creative Commons photo of Calgary by Bruno Karklis.