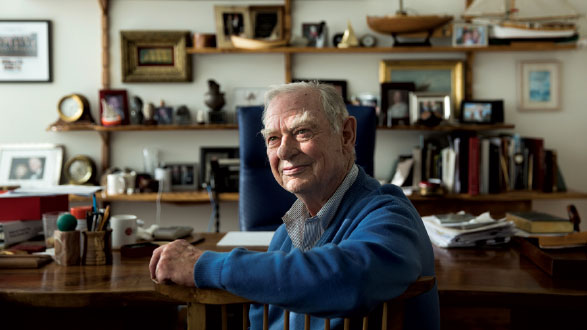 Lenfest Institute and Knight Foundation establish $20 million fund to invest in local journalism
PHILADELPHIA (Sept. 16, 2018) — The John S. and James L. Knight Foundation and The Lenfest Institute for Journalism today announced a $20 million fund for a new national initiative to strengthen local journalism for the digital age.
The new fund, based in Philadelphia and equally funded by Knight and Lenfest, will foster innovation in journalism, community engagement, technology and business models. A particular focus will be U.S. metropolitan areas, where news organizations face profound challenges.
"An informed citizenry is essential for a well-functioning democracy. Local news organizations ensure the people can determine their best interests. The Knight brothers believed that and so did Gerry Lenfest. We are thrilled to fund this collaboration, true to their fundamental beliefs," said Alberto Ibargüen, Knight Foundation president.
The new fund is designed so that individuals, corporations and other foundations can contribute and participate. The project will support new ways for local news organizations to build trust with their audiences and to increase revenue to achieve long-term business sustainability. The project has three pillars:
Intensive change-management training for news leaders who are committed to meeting the technology, business, and audience realities of the future. This work builds on the Knight-Lenfest Newsroom Initiative with Temple University, the American Press Institute, Poynter Institute and other partners to help news organizations accelerate their shift to digital delivery.
A technology resource hub to that will provide tools, hands-on support and expertise in areas such as data journalism, news analytics, audience engagement, revenue models, and product development.
Continued focus on the news ecosystem in the Philadelphia region, where the Lenfest Institute owns The Philadelphia Inquirer and is working with dozens of news organizations and several universities. New grant programs will also focus on serving the information needs of Philadelphia's diverse communities and multi-cultural media.
"This initiative focuses resources on the people and projects driving transformational change in Philadelphia and around the country," said Jim Friedlich, executive director of the Lenfest Institute. "By strengthening local news, with a focus on high-impact journalism, civic engagement, digital transformation, and the needs of diverse audiences, we can build a sustainable future for local journalism, one community at a time."
Knight and Lenfest have made several joint investments in support of local news, including a grant of more than $4 million to the Knight-Lenfest Newsroom Initiative. Knight has invested in many programs to strengthen local news at scale, such as NewsMatch a funding partnership that provides matching support to nonprofit news organizations.