Science News is partnering with News Co/Lab to promote media literacy through transparency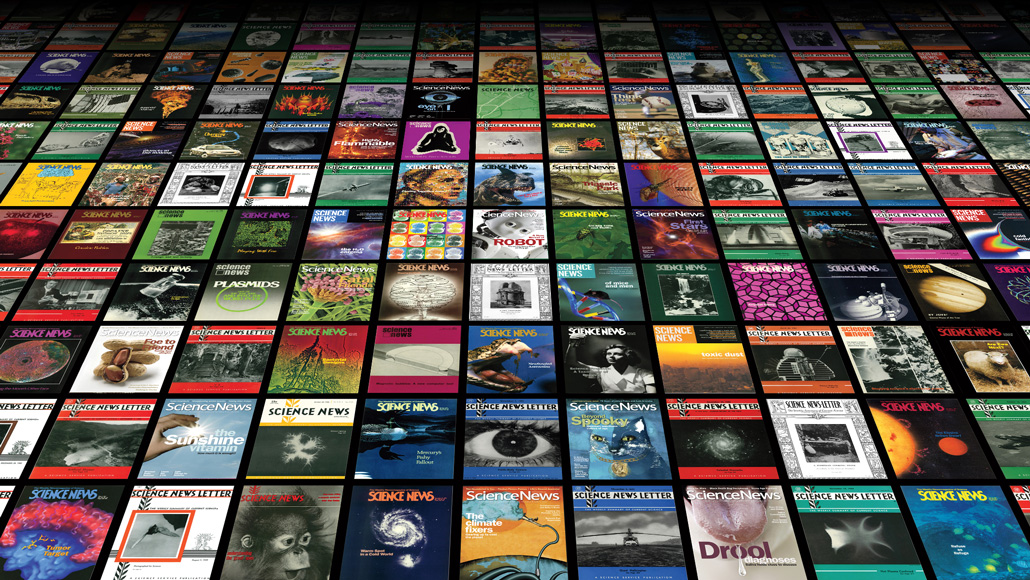 The internet is constantly overrun with new studies that make dubious claims about everything from climate change to how you should raise your kids. With so much bad research out there, what should news consumers actually trust? And how can publishers signal to their audiences that something is legit?
That's a challenge that Science News took on earlier this year in partnership with Arizona State's News Co/Lab. Together, they created an "About this story" sidebar that was published alongside some stories to provide more background about the research.
"Science affects everyone's minds, whether it is water pollution or climate change," said Science News Editor in Chief Nancy Shute. "You really need a scientifically literate society and people [need to] understand the scientific process… that's something we can really help with."
This week in Solution Set, we're going to look at how News Co/Lab partnered with Science News to provide increased transparency and context for readers around controversial stories. We'll dig into the origins of the project, how the partnership worked, and what readers actually gained from this work.
Solution Set is a weekly report from The Lenfest Institute for Journalism. Every Thursday, we take an in-depth look at one fabulous thing in journalism, share lessons, and point you toward other useful resources.

Here's the TLDR:
---
TLDR
The Challenge: Science News partnered with Arizona State University's News Co/Lab to find ways to increase trust and be more transparent with its reporting.
The Strategy: Science News worked with the News Co/Lab to create "About this story" sidebar boxes and transparency/trustworthiness surveys on select stories about particularly controversial issues.
The Numbers: Science News has published four stories per month as part of the Transparency Project since it launched in April. It has received more than 100 survey responses from readers.
The Lessons: Through the survey, readers expressed overall optimism and appreciation for the opportunity to show why journalists made certain decisions during the reporting process.
The Future: Science News plans on tying the Transparency Project more directly to membership calls to action in the future. It also want to try out some different mediums for the project, including its print publication and its resources for students.
Want to know more?: Scroll down to learn more about The Transparency Project and News Co/Lab's work with McClatchy newspapers.
---
The Challenge
Journalism is complicated. Science journalism is even more complicated.
It has always been a challenge for science reporters to synthesize nuanced concepts based on comprehensive data and research in a way that is digestible for a wide audience.
This is a challenge Science News has been tackling for nearly 100 years, as its mission is to provide independent coverage of science while giving readers the tools to evaluate research and the world around them.
That mission has taken on added urgency in recent years as clickbait articles that make misleading generalizations –– or are borderline false –– regularly catch fire on social media while marketers and other shady actors peddle studies that are hardly credible.
By early 2019, Science News feared that these types of unsavory actors would sow mistrust among its readers.
"We really believe that journalism is essential to a strong democracy, and having communities of informed citizens who can discuss and debate," said Science News Editor in Chief Nancy Shute. "Science affects everyone's minds, whether it is water pollution or climate change. You really need a scientifically literate society and people [need to] understand the scientific process… that's something we can really help with."
To think through this problem it turned to News Co/Lab, a group at Arizona State University's Walter Cronkite School of Journalism and Mass Communication, that experiments with new ways to help the public engage with news and information.
Science News wanted to find a way to illustrate the scientific process and help readers understand how to ascertain whether a study is legit.
"We thought that there was a really good opportunity in the news industry to help foster media literacy via transparency," said News Co/Lab Managing Director Kristy Roschke. "Our focus is always on the end user and thinking about what it takes for people to use information in a way that's helpful in their own lives and impact society."
Roschke and News Co/Lab Editor Celeste Sepessy initially worked with three McClatchy newsrooms to test out different approaches to transparency. Through this process, they developed an "About this story" format that outlined how the journalists reported the stories. In partnership with the McClatchy papers, News/Co Lab experimented by placing the transparency information at the bottom of a lengthy Fresno Bee story on sex offenders who California is keeping locked up even though they want to be deported: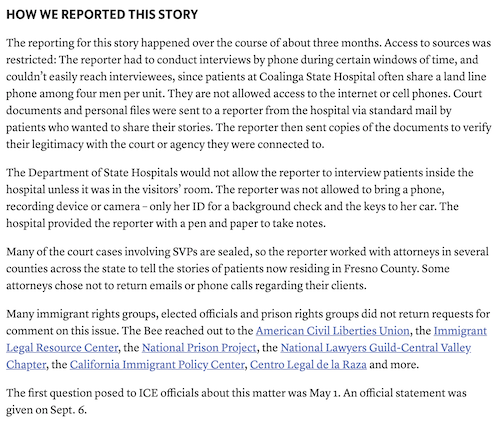 Building from the relationship with McClatchy, Roschke and Sepessy wanted to bring what they learned about media literacy and share those practices across the country to help people make decisions about the coverage that they are reading.
Science News saw this partnership as an opportunity to build trust with its readers.
"If you add the complexity of the news process on top of science and research gathering and all of the extra steps that science journalism needs to take to credibly report on scientific advancement, these [transparency] efforts are just as important, if not more important than in general news," said Roshcke.
---
The Strategy
Science News formally launched the Transparency Project in April 2019 as an initiative aiming to "show who we are and how we do what we do, revealing decisions we make to ensure our coverage is accurate and fair." Science News added "About this story" boxes on the sidebar of select stories to explain more about how and why its journalists reported on the stories.
The sidebars were placed at the top of the story so readers would actually see them. Some of News Co/Lab's initial experiments with McClatchy featured the "About this story" element at the bottom of the stories, which limited their reach because — shocker! — most people don't read to the bottom of the story.
"When we talked with Science News, we encouraged them to have it as a sidebar higher up in the story so it actually would be seen," said Sepessy. "The sidebars are now beautiful, prominent and at the top of the page."
The box is mostly used on stories that could potentially be controversial and that raise questions in readers' minds. Included story topics include climate change, vaccination, and more.
"We also wanted to feature the sidebar on more complex stories where it may be helpful for the reader to understand the reporting process," said Shute. "We really pride ourselves on being super factual, straight down the middle, and unbiased. But still, we found ourselves seeing these climate change-denying trolls on our site."
Science News shares its stories with with Roschke and Sepessy to start the process of creating the "About this story" boxes. They then write up five or six questions they think might be relevant and send the list over to the newsroom, which answers the questions that it thinks would be most beneficial to enhance the story.
Audience engagement editor, Mike Denison, and Shute said their approach to the "About this story" box varied depending on the nature of the story, but in general they wanted to make it as simple and straightforward as possible for the reporters.
Using a Q&A-type format, some standard questions for the "About this story" boxes include:
Why are we doing this story?
Where did the idea for this story come from?
How are we reporting this story?
Who did we interview?
Who did we choose to speak to?
How did we take steps to being fair?
The reporter works with Denison and Shute to tweak the questions for the story. They then appear in the box next to their story. Here's how the sidebar looked in a story from July about how adding certain nutrients to cat food may help people overcome their allergies to the animals: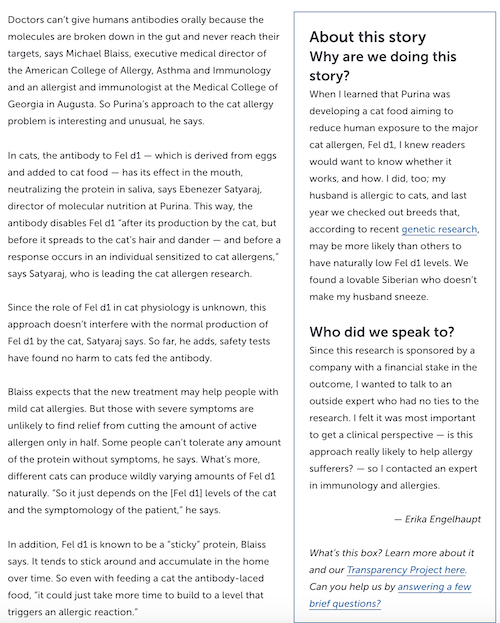 At the end of those questions, readers see, "What's this box? Learn more about it and our Transparency Project here. Can you help us by answering a few brief questions?" which links out to a Google Form survey which asks the reader how they would rate Science News on its credibility and trustworthiness, ending with an open-ended question asking how the "About this story" box affected those ratings.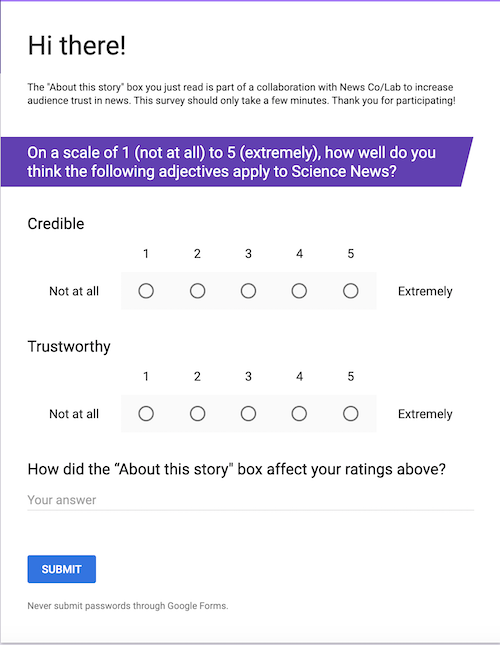 The responses thus far have been mostly supportive.
"The first time I read the responses I was blown away at how overwhelmingly positive and supportive it was," said Sepessy. "[Multiple] people said 'This didn't affect my rating because I already had high trust in Science News.'"
There were also some responses that just stated how the "About this story" boxes solidified and reaffirmed their trust in Science News.
Climate change stories often garnered the largest volume of responses and the most varying ones. One respondent said they would like to see the box added to every story they read.
---
The Numbers
There are about 30 people in the Science News newsroom.
Initially just two reporters participated in the Transparency Project, though all the site's journalists have now tried it at least once. About five or six reporters now add the box to select stories on a regular basis.
"We wanted this to be something that reporters could do non-begrudgingly," said Denison. There was a large emphasis on making this project a light enough load so that reporters could get to the heart of the matter quickly and efficiently without interfering in the process of creating the full story.
"They all believe in this, which, I think, has made the project really successful," said Sepessey. "I think that's why this project was so quick to take off. Everyone wanted to do it, so they made it happen."
To date, about 15 articles have been published on Science News under the Transparency Project, averaging about four articles per month.
Ten of the stories with the "About this story" box have the Google Form link featured and Science News has received about 100 responses total. Some articles receive just a handful of responses, while others have had up to 20.
All but two submissions rated Science News' trustworthiness as a 4 or 5 out of a five-point scale. (The other two gave them a 3.) Sepessy noted that the submissions that rated three's had "spammy" responses that didn't quite make any sense.
So far, it has not been able to tell if the project has had any direct impact on donations, additional foundation support, or other revenue-building opportunities. Though, as a non-profit newsroom, it has plans to be more aggressive with including calls to action in the transparency initiative.
---
The Lessons
• Reaffirm your principles: Science News has been publishing for nearly 90 years and is well trusted by its readers — but that makes these efforts even more important. It has a solid base of loyal readers, but if it wants to ensure they stick around — and subscribe — keeping its trustworthiness at a high level is always top of mind.
"[Science News] is not a publication that is worried about declining trust among their readership…" said Roschke. "This has been an affirming way for them to gather some insight and keep thinking about what questions the reader may have when they are reading these stories."
Importantly, this project was more than just a behind-the-scenes type of edition to their reporting. While that strategy is helpful, Science News' project is about increasing transparency to gain and solidify trust in your readers to maintain a long-lived relationship.
"We want to show that our reporters are doing their homework instead of rewriting something we saw on CNN or elsewhere," said Denison.

• It's not one-size fits all: "We've got a really awesome team who is totally up for experimenting," said Shute. The Science News team is always coming up with new ideas, but of course, the hard part is finding time to actually test it all out.
Working with a small team, Shute said the key is making really deliberate choices about what to experiment so that they can continue cranking out great journalism while also trying new things.
Science News didn't want the Transparency Project to seem like just another tasks that the newsroom adds to their already long to-do list, so they found a system that works for them. Having the News Co/Lab draft up questions so the reporter doesn't have to start from scratch was a great way to alleviate the pressure while still getting the job done.
• Think outside the journalistic bubble: Working in a newsroom every day, it can be easy to forget that readers don't fully understand the reporting process. During a time where there's so much mistrust in journalism, it's important and impactful to take a step back and walk readers through why reporters make certain decisions while working on a story.
"In a small space, in these really nice, accessible bits, we can give [readers] that information and say, 'Hey, we do automatically fact check, call multiple sources, and rely on outside commentators," said Shute.
Scientific research is complicated. The reporting process is complicated. When you put the two together, it can pose more of a challenge to package the information to your readers in a way that's both easy to digest and understand.
The Transparency Project has given Science News and the News Co/Lab another reason to step into the shoes of their readers and reflect on what they may not know about how the stories they are reading get told.
---
The Future
Science News plans to integrate the Transparency Project into Science News' student-focused site, a resource that teachers often use in the classroom for students ages 9 and up. Science News has gotten some responses from the Google Forms survey that said this project could potentially be a helpful teaching tool, so the News Co/Lab and Science News are interested to see how they can integrate some of their learnings on that platform.
"I think it could help build some expectations of transparency for people when they look at news as they are growing up in this crazy world," Roschke said. She noted that it's important for students to have examples of what real, credible journalism looks like.
Science News is looking forward to setting up various focus groups in the coming months with readers from different verticals to see how they can continue to expand their Transparency Project.
Science News also plans on integrating the project into their print product, which help them reach their most loyal readers, and an audience that differs from its online audience.
---
Want to know more?
• News Co/Lab has written a bunch about their projects. You can learn more from them about the work with Science News, the project with McClatchy, and here's an outstanding handbook that News Co/Lab recently published to share tips and best practices for transparency and news literacy efforts.
•Science News' Shute wrote about the launch of the Transparency Project in April here.
• If you're thinking about how you can build trust with your community, there's no better resource than Trusting News, which is led by Joy Mayer and Lynn Walsh. You can sign up for a free coaching session or sign up for their outstanding newsletter at trustingnews.org.
• We've also covered different strategies for providing transparency in news coverage here at Solution Set. A local California investigative site, inewsource, creates versions of its stories that show readers all the documents it used in the reporting.
As science journalists think about how to make their coverage more accessible, there is a growing recognition that there is a lack of Spanish-language science coverage in the United States.
---
Joseph here again. It's always interesting to me how little the public often understands about how journalism actually is made. It's been heartening to see newsrooms be more proactive in bringing their audiences into the process and explain how and why they make decisions about their coverage. Is your newsroom thinking about how to address these questions? I'd love to hear more about the work you're doing in this area.
Feel free to email me at [email protected] or reach out on Twitter at @ylichterman.
See you next Thursday!