WHYY expands N.I.C.E. community news partnership network with support from Knight-Lenfest Fund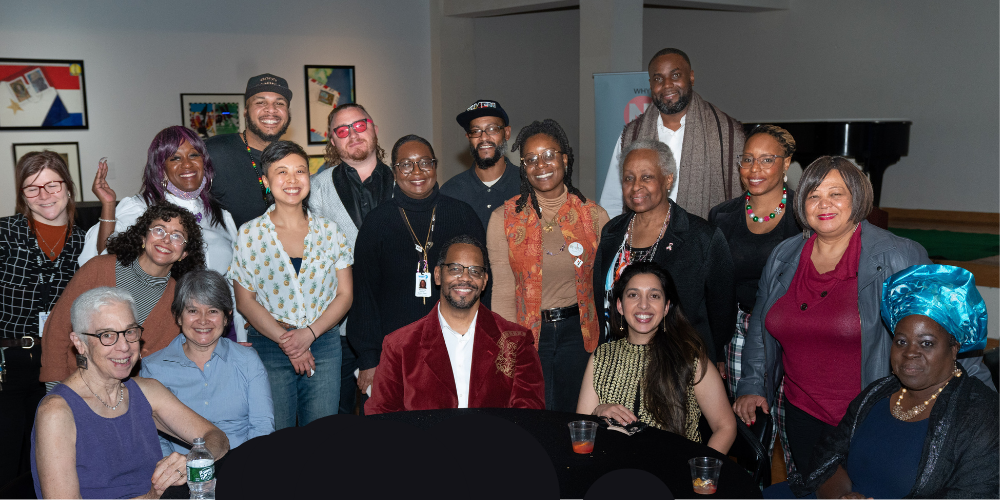 The Knight-Lenfest Local News Transformation Fund today announced a three-year $600,000 grant to accelerate the growth of WHYY's News & Information Community Exchange (N.I.C.E.), a partnership between the public media outlet and local community publishers focused on serving the information needs of the diverse communities of Philadelphia. Currently in its second year, N.I.C.E. has fortified the local news ecosystem and generated stronger collaborations between content creators and their communities.
N.I.C.E. is a collaboration between WHYY and 12 community partners to organize, support, and develop a network of grassroots news and information content creators. Led by a team that reflects community diversity, N.I.C.E. and its partners share coverage, sources, expertise, and audiences.
"Through N.I.C.E., WHYY is building a future for local journalism that is reflective of our diverse communities, responsive to the needs of its creators and consumers, and reliant on non-traditional expertise in addition to academics," said WHYY Managing Editor for Community and Engagement Christopher "Flood the Drummer" Norris. "WHYY is proud of what N.I.C.E. has accomplished so far and we're looking forward to growing the cohort, building a sustainable learning community with other creators, and further informing and engaging the residents of Philadelphia."
N.I.C.E. launched in 2021 with initial funding of $350,000 from the Knight-Lenfest Fund. Though it was conceived prior to the COVID-19 pandemic, its focus on mutual aid was well-timed to help address the impact of the coronavirus on Philadelphia communities by identifying, recruiting, supporting, and training local journalists and media makers who supply news and information to their neighborhoods. Since then, N.I.C.E. experienced better-than-expected enthusiasm and participation from partners. It has collaborated with multiple WHYY departments, including the newsroom, and it developed a talent pipeline that diversified and enhanced WHYY's programming. N.I.C.E. has received recognition from local and national media.
Speaking at WHYY's Neighbors & Newsrooms Summit in January, N.I.C.E. partner Saj "Purple" Blackwell shared how the program helped her organization, the internet radio station PQRadio1, grow.
"This impact has been transformative for the N.I.C.E. partners," she said. "They never knew of each other and had never been recognized by or felt welcome by legacy media organizations… WHYY wants to continue to help facilitate this transformation for others and to help communities and media organizations replicate this mutual aid journalism model we have created with N.I.C.E."
The new funding will support an expansion of N.I.C.E. that will introduce new partners to create more locally relevant content through listening activities such as pop-up newsrooms and town hall meetings. N.I.C.E. will deepen collaboration between partners by promoting additional coverage work through WHYY's radio, TV, and digital platforms.
As part of its emphasis on addressing systemic inequalities in local news in Philadelphia, N.I.C.E. will provide meaningful training and resources on audience engagement, revenue strategies and business modeling to its partners.
"The feedback that our partners have shared about their involvement with N.I.C.E. is proof that this is a valuable model for the future of journalism and media," said Eric Marsh, Sr., community outreach organizer for WHYY and manager of N.I.C.E. "One hundred percent of the partners wanted to return for this second round of the program. Many have shared a measurable improvement from participating and collaborating with WHYY and each other. WHYY reporters and staff have also benefited from N.I.C.E. by having a direct connection with the partners. This has resulted in a deeper connection with communities and stories that are authentic and reflective of the diversity of Philadelphia."
Led by Norris and Marsh Sr., N.I.C.E. fortifies the ecosystem of local news by strengthening the voices and contributions of the community while diversifying the new stories that might not be seen in legacy newsrooms.
"It started with a vision and a blank slate. The N.I.C.E. origin story began at a now-legendary whiteboard brainstorming meeting with Chris Norris, WHYY's former VP for news and civic dialogue Sandra Clark, and Knight-Lenfest Fund's former managing director Roxann Stafford in 2019. It has grown strategically and organically under the leadership of Eric Marsh and informed by a constant feedback loop with community partners," said Knight-Lenfest Fund Director Diana Lu. "The spirit of open collaboration grounded this nationally renowned initiative, and we are proud to continue supporting this innovative model and excited to see what the N.I.C.E. partners will co-design together in the next three years."
About the Knight-Lenfest Local News Transformation Fund
With a focus on sustainability and equity, The Knight-Lenfest Local News Transformation Fund is designed to strengthen local journalism at scale, by supporting journalistic excellence and serving the information needs of communities. The Knight-Lenfest Fund collaborates with news organizations, leaders and communities to grow capacity and meet journalism's technology, business, and audience realities of the future. It believes that journalism is at its best when it is of service. The Knight-Lenfest Fund is a joint venture of the John S. and James L. Knight Foundation and The Lenfest Institute for Journalism.
About the John S. and James L. Knight Foundation
We are social investors who support a more effective democracy by funding free expression and journalism, arts and culture in community, research in areas of media and democracy, and in the success of American cities and towns where the Knight brothers once published newspapers. Learn more at kf.org and follow @knightfdn on social media.
About The Lenfest Institute for Journalism
The Lenfest Institute for Journalism is a nonprofit organization whose sole mission is to develop sustainable solutions for local journalism. The Institute is the non-controlling parent organization of The Philadelphia Inquirer and Spotlight PA, and it supports journalists and news organizations serving local communities in Philadelphia and around the United States.