A look back at The Lenfest Local Lab's location-based products that centered on the communities, places, and neighborhoods that frame life for local news readers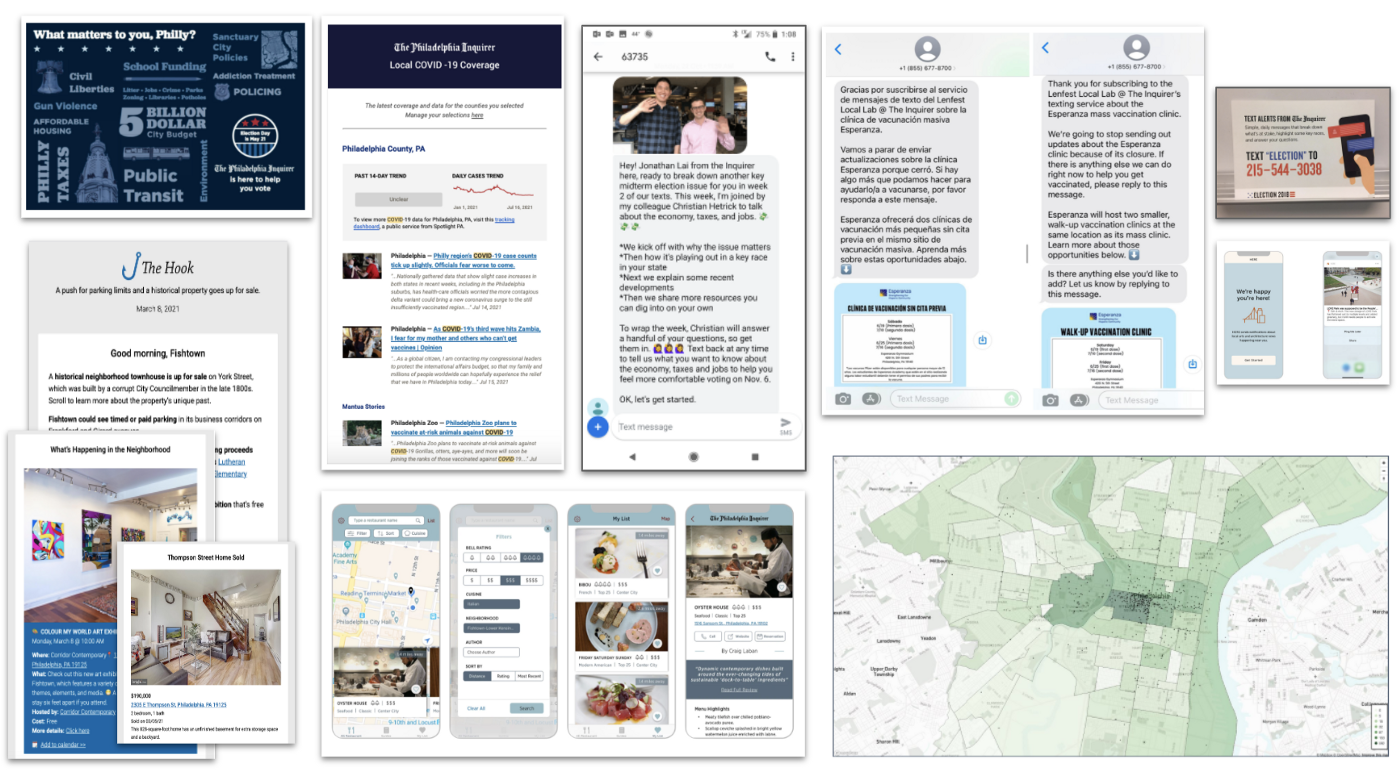 To help spur and support ongoing local news innovation, we are breaking down the ideas, goals, and outcomes from each of our projects, sharing years' worth of in-depth data and insights.
In this post, and as we sunset the Lenfest Local Lab @ The Inquirer, we're continuing our team's commitment to openness and transparency in innovation work. As we look back at our projects in aggregate, we hope that these contributions help other local news teams set critical benchmarks for success as they evolve their product and UX practices to better serve and collaborate with all communities in a coverage area.
Our founding
In 2018 we founded the lab within The Lenfest Institute for Journalism. The Lenfest Institute is a Philly-based nonprofit that is also the non-controlling owner of The Philadelphia Inquirer, and whose mission is to help local news build a more sustainable future. With support from Burt Herman, then the Institute's Director of Innovation Projects, we built a cross-disciplinary product & UX lab to act as a stable environment for testing new local news products. We joined The Philadelphia Inquirer's product team in April 2021.
Our focus on "location"
To create continuity in our work, we established a theme of "location" in our product and UX work. Using location as a guiding principle meant that we explored product ideas at the intersection of local news and the places that are significant in the lives of residents of the Philadelphia area. A primary reason we chose this theme from the outset was that location-based technology and adoption had matured enough for serious experimentation. Focusing on location also made sense within the context of local news product development, where more so than in national or international news, the neighborhoods and communities mentioned in stories are critical to building the value of the product. We also knew that grounding our work in location would keep us tuned into the needs of specific communities and groups of residents.
Our team, thank you
Thank you to all team members, past and present, for pouring your expertise, care and energy into serving the needs of Philadelphia area residents and local communities. Thank you to Faye Teng, André Natta, Ajay Chainani, Brent Hargrave, Ana Méndez, Kelly Brennan, and Gargi Deshmukh. Thanks also to our local analytics partners, Hero Digital, for providing smart and creative analytics solutions for all of our projects.
---
Lab Experiments: 2018 & Early 2019 — Real-time location-based news products
To get started exploring this theme of location, our team kicked things off by building a few apps that sent real-time, location-based push notifications and also made coverage visible on a map and sortable by neighborhood. The goal of these apps was to test out ways to meet people where they were, in a literal sense, with local news.
Experiment 1: HERE for Local News app
✔ Product: An app that sent real-time, location-based push notifications with links to news stories written about buildings or places nearby.
Ideas we were testing
Gauging people's interest in real-time, location-based news notifications
Applying motion detection technology to news products
Understanding which app permissions someone might grant to a news app
People's interest in news happening around them
💡 Most interesting insight: Push notifications had a 19% CTR with on weekends, and app users asked for more ways to engage with stories, asking to receive a daily or weekly email digest of stories about nearby places.
🎯 Read fuller insights from the experiment here.
📊 View our Success Framework document here.
Related posts
Experiment 2: Philly Eats app
✔ Product: The Philly Eats app made Philadelphia Inquirer food writing searchable by location, cuisine and price, and also made it easy to save reviews and see restaurant locations on a map, making it easier to research and plan out visits.
Ideas we were testing
Applying practical filters to local news, aiding discovery and usefulness
Adapting food coverage formats to meet user needs
How journalism can help people take action (i.e. make reservations, call a restaurant)
Building better and more contextual "Save" features
Showing content on a map to help with logistics and planning
💡 Most Interesting Insight: This experiment provided data that supported one the ways we've long believed people rely on Inquirer journalism, which is to make decisions and take action. We observed that when an app user saved an Inquirer restaurant review inside the app, they frequently ended up visiting the restaurant, signaling that the review itself resulted in a visit.
🎯 Read fuller insights from the experiment here.
📊 View our Success Framework document here.
Related Posts
---
Lab Experiments: 2019 — More Accessible Location-based Products
In 2019 we deepened our relationship with The Philadelphia Inquirer and our projects expanded beyond apps into more widely accessible formats, including our first experiments with text messaging and printed products.
Experiment 3: Local election postcards
✔ Product: We launched a postcard and text messaging campaign targeted at providing news and information to support civic participation and engagement among "cicada voters". Cicada voters are people who vote in national elections every four years, but don't vote in critical and impactful local elections in Philadelphia. We sent postcards about when and why people might consider voting in these elections, along with offering a text message line to answer people's questions about voting and the election.
Ideas we were testing
How to reach residents who aren't reading your news online
Providing information and data visualizations that lead to local civic engagement
How journalism can help people take action
Whether a series of postcards would be more effective than a single postcard
Workflow for a texting "helpline" for residents with questions
💡 Most interesting insight: Data showed that there was a 2.6% lift in voting turnout for registered Democrats who received the postcards and a 9.8% increased turnout for registered Republicans who received the postcards.
🎯 Read fuller insights from the experiment here.
📊 View our Success Framework document here.
Experiment 4: Midterm election text messages
✔ Product: A three-week long text message service hosted by a group of journalists, breaking down a single predetermined issue at stake in elections each week, including healthcare, gun control and the economy. We also allowed people to send in their questions each week, and answered them on Fridays.
💡 Most interesting insight: We converted 3 paid subscriptions from a special offer link we sent via text the day after the election. This was a significant conversion rate given that many of the people who signed up were already subscribed to the Inquirer (97% of survey respondents said they were already subscribed in print or digital).
🎯 Read fuller insights from the experiment here.
📊 View our Success Framework document here.
Related posts
"Hi, this is Jonathan Lai." Why texting continues to be a big opportunity for newsrooms to customize news and start a conversation with their audience.
---
Lab Experiments 2020: Making News more Accessible and Actionable for Communities
With a handful of solid engagement insights to build on, our team's work started evolving beyond exploratory one-off concepts like the HERE and Philly Eats apps. We started thinking pragmatically about scalability, and how we might build tools and establish workflows that would help an organization create a highly engaging network of hyperlocal or location-specific products. To that end, we applied for support from Google's inaugural round of Innovation Challenges and won.
Experiment 5 and 6: COVID-19 News by Location Page + Newsletter
✔ Product: A page, and eventually an opt-in newsletter, that made it easy for residents to read local COVID-19 news about the counties or neighborhoods that were important to them. During a time when news about the global pandemic was being published at a rapid pace, this product offered people a way to see the most relevant and actionable public health coverage first. We also partnered with The Inquirer and Spotlight PA to pair data about case counts and trends alongside written coverage. The page, and eventually the newsletter, were promoted from within the Inquirer's existing COVID-19 newsletter.
Ideas we were testing
Displaying public health journalism by location rather than topic or chronology
Scalable technology (NLP, AI, geolocation techniques) to organize content by location
Pairing hyperlocal journalism with hyperlocal data points about public health
Introducing new products through existing newsletters
Promoting existing newsletters through new products
Collaborating with multiple newsrooms, The Inquirer and Spotlight PA, to build the best product for readers
Opt-in newsletters that deliver content for or about a specific location
💡 Most interesting insight: The open rate for the location-specific email newsletter was 39.4%, which is more than 2x the then-average industry open rate of 18.1%. Readers also told us they would like other types of news organized in this way. More than half of survey respondents said they would like hyperlocal emails for Breaking News, Health, Food & Restaurant and Politics news.
🎯 Read fuller insights from the experiment here.
📊 View our Success Framework document here.
Experiment 7: The Hook, a neighborhood newsletter for Fishtown residents
✔ Product: A curated, collaborative neighborhood newsletter for residents of the Fishtown neighborhood in Philadelphia. The newsletter allowed us to explore smart ways to scale tools, workflows and approaches that could support a network of hyperlocal newsletters across a region.
Ideas we were testing
Power of applying editorial skills to curate, versus create, content for communities
Importance of authentic collaborations with community-focused organizations
Opportunities to automate portions of the newsletter creation
How to let residents know about a new neighborhood product
Tooling to support curated community content, including events, real estate listings and story curation
💡 Most interesting insight: The open rate for the newsletter was 43.7%, which is more than 2x the industry average of 20.8% at the time. The click-through rate for the newsletter was 10.6%, which is more than 3x the then-industry average of 3.5%.
🎯 Read fuller insights from the experiment here.
📊View our Success Framework document here.
Related Posts
---
Lab Experiments 2021: Refining Tools and Approaches to Scale Location-based Products
This was the year we joined The Philadelphia Inquirer's product team. We pursued building neighborhood-focused products to test new ways of working with communities on their most urgent issues, and to gain insights into how newsrooms can better serve and represent residents. We also applied for a second round of Google's Innovation Challenges to support our collaborative local news mapping initiative with the Brown Institute for Media Innovation, and won again.
Experiment 8: Esperanza Clinic Text Messaging
✔ Product: We launched a bilingual texting service providing information about a local vaccine clinic. The service was designed specifically to serve residents living near the clinic in North Philadelphia. The city had opened this second mass clinic as a way to serve communities in North Philly disproportionately affected by COVID-19, and our service was meant to ensure that nearby residents had access to consistent and reliable information, and could ask clarifying questions.
Ideas we were testing
Importance of building authentic relationships that lay the foundation for collaborations
Bilingual editorial workflows for text messaging and community engagement
Delivering actionable information via text to a community who would benefit the most
How to let residents know about a new bilingual neighborhood product
💡 Most interesting insight: Three times as many subscribers to the Spanish-language service asked questions via text versus English-language subscribers. This points to a demonstrated need for more translated content and also provides proof that audiences will engage with it. This was underscored when we saw that the highest response rate we received in a single day to a text message was about the city's Deaf & Hard of Hearing community vaccination day. Communities with unique needs are more likely to engage when relevant information is offered.
🎯 Read fuller insights from the experiment here
📊 View our Success Framework document here.
Related Post
Prioritizing action: How we created a bilingual texting service to help get people vaccinated.
Experiment 9: La Onda, a neighborhood newsletter for West Kensington and Fairhill residents
✔ Product: Our lab was readying to launch a bilingual, cross-platform newsletter for residents of West Kensington and Fairhill in Philadelphia. What set this project apart from The Hook was the role that community collaborations had in shaping the product from the outset in terms of content, design and user experience.
Ideas we were testing
Co-designing and co-developing a product with community stakeholders
Bilingual editorial workflows for newsletters and companion text messages
Automating text messages from existing newsletter content
Investing time, money and resources into a community while building a product together
💡 Most interesting insight: The newsletter unfortunately will not launch given the lab's closure, however we learned so much about what is possible. The design, technology, tools and approach were in place to explore the ideas above, and if you're interested in trying something similar, please reach out and we'd like to connect.
Experiment 10: Local News Mapping / Operationalizing DEI Practices
✔ Product: An open-source tool that automatically identifies and maps locations found in local news stories. More recently the tool has been updated to include complementary census data about the residents of the community being shown on the map. We used the tool in our experimentation as well as our community engagement work. It also allowed us to support analysis to the Temple University diversity and inclusion content audit of Inquirer coverage (p. 39–44), by observing the geographic distribution of coverage included in the audit.
Ideas we were testing
Leveraging new technology to operationalize DEI analysis in local newsrooms, including natural language processing (NLP) and machine learning (ML)
The impact of allowing newsrooms to view coverage of a single community over time
Creating a data-driven starting point for conversation with community groups about representation in coverage
How access to this tool could share power and build trust with communities
Modeling the technology needs and strategy constraints for personalizing news products for residents and communities with unique sets of needs
How pairing census data with data about coverage in an area sharpens the focus on individuals within a community and what representation in coverage looks like on a person-by-person basis
💡 Most interesting insight: For the Temple University content audit, we were able to observe how mentions of places in Inquirer coverage published between August 2019 and July 2020 laid out across neighborhoods within Philadelphia. The highest concentration of locations mentioned were in Rittenhouse Square, University City and the Stadium District. After those neighborhoods, there was a substantial drop off in concentration of locations mentioned.
Related Posts