Checking in with the 2023 Philadelphia Media Founders Exchange entrepreneurs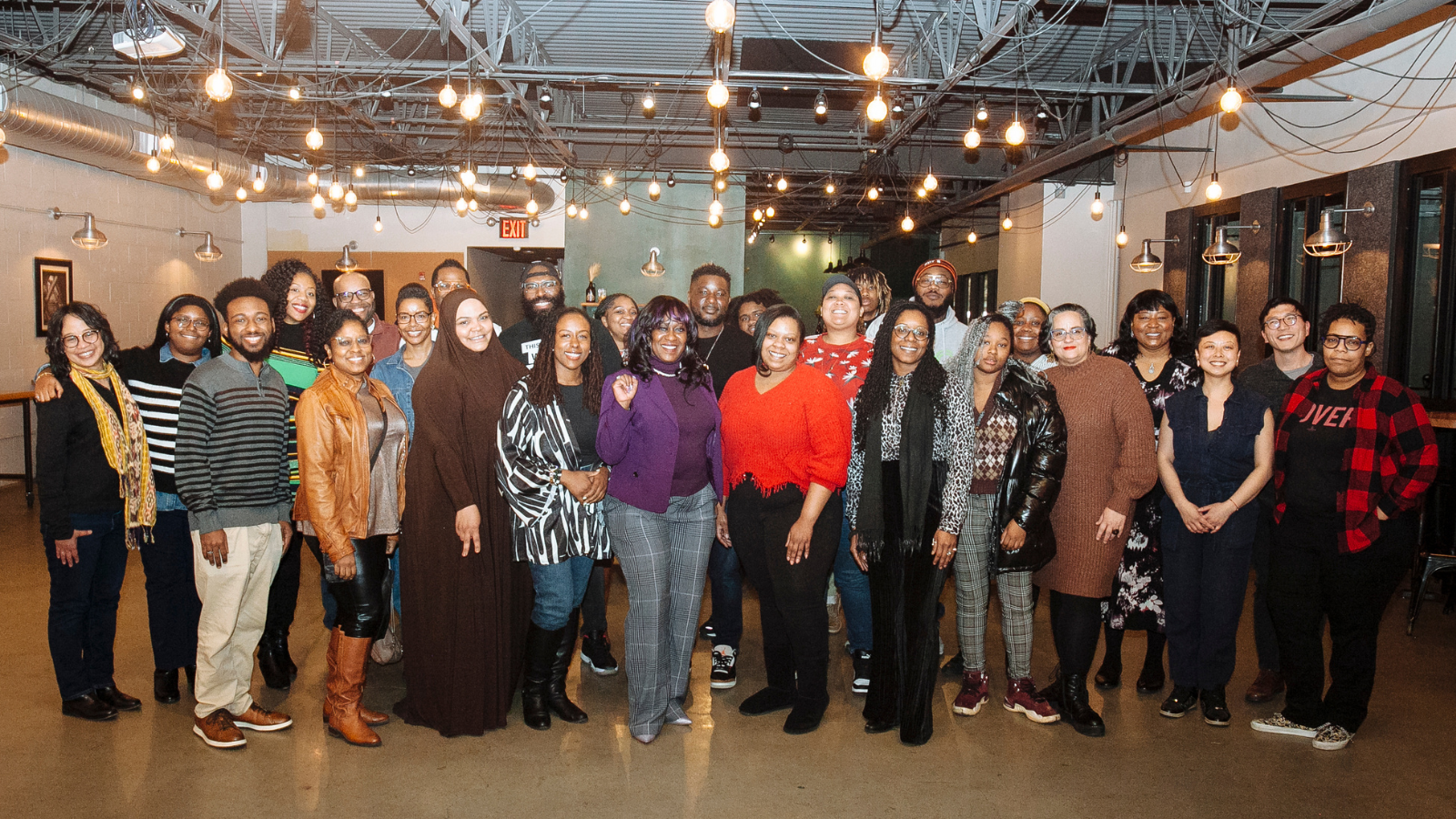 Now in its second year, PMFE is a business accelerator for BIPOC news and information entrepreneurs building businesses in digital news, video, radio, podcasts, and more through coaching, mentoring, and funding
Cherri Gregg's goal is to amplify the stories of Black and brown individuals across the Philadelphia region. Gregg is the founder of Create Genius Media LLC, a local media company covering civil rights, social justice, race, and public affairs.
"I wanted to create a business that would be for Black and brown communities, but also for people who want to know more about Black and brown communities." As an attorney and journalist at WHYY, Gregg's work revolves around journalism and storytelling, but finding the resources she needed to sustain and grow her own business was a challenge.
As 1 of 12 members of the 2023 class of the Philadelphia Media Founders Exchange (PMFE), Gregg and other BIPOC media entrepreneurs from the Philadelphia region have received grant funding, training, coaching, and peer support to amplify their voices and build sustainable businesses. 
The Philadelphia Media Founders Exchange is a program of The Lenfest Institute for Journalism and The Knight-Lenfest Local News Transformation Fund, with additional support from the Independence Public Media Foundation. PMFE began in 2022 to help strengthen Philadelphia's diverse media ecosystem and was designed with significant input from BIPOC communities it aims to serve. The program is run by BIPOC leaders and consultants within predominantly white philanthropic organizations.
The fellows receive support for their business through a core support grant, the opportunity to apply for additional rounds of funding, intensive training with coaches and guest speakers, and a community of practice among their fellow members and alumni from previous cohorts.
"It is truly amazing to see The Lenfest Institute and Love Now Media have the courage to produce something of this caliber. I am surrounded by individuals who are supposed to be my competitors producing similar content, especially in a city like Philadelphia," said Tamara Russell, founder of REVIVE Radio and REVIVE Media, who is also known as P.O.C. (Proof of Consciousness). "PMFE redefines what it means to be a partner and to collaborate within the media industry as we work together to strengthen our community instead of trying to replace each other in it."
The PMFE programming began in March and will run through June. About halfway through the program, we sat down with 10 out of the 12 members of the 2023 class to check in on how they're feeling about this experience and what they hope for the rest of their journey and the future of their businesses.
Financial support
A fundamental part of the PMFE is to provide increased access to capital and strategies for revenue generation that can help the entrepreneurs work toward long-term sustainability of their businesses. The follow-on funding process not only offers additional monetary support, but it has an educational value, too — the Founders work with coaches and peers to learn how to perfect their grant proposals and budgeting needs.
"The follow-on funding really pushes a couple of my projects forward quite a bit," said Stephanie Humphrey, founder of Til Death Do You Tweet, a segment on Fox 29's Good Day Philadelphia, Cheddar TV, and other broadcast outlets that helps people understand the negative consequences of online behavior, specifically through social media "When I am approaching schools with my product, I am trying to make sure that my content fits into educational standards. This funding has allowed me to hire an instructional designer for content that students want to engage with and I believe will make a difference to their learning curriculum."
The cohort members said the follow-on funding helped create fundamental changes in their organizations by helping them acquire new equipment to produce higher quality content, hire new employees to advance their business operations, bring long-term projects to fruition, and ultimately change their mindsets from one of survival to expansion.
"Right now, the follow-on funding is giving me the ability to be more strategic with my business practices and truly understand where my business is headed," said Crystal Cheatham, a multimedia entrepreneur currently running her own progressive media outlet and publishing company, Our Bible App. "Being able to say 'I have $10,000 dedicated to my company,' I can finally focus on giving back to the community in a sustainable way and normalize the conversation of intersectionality between faith, politics, and news."
Professional development
In addition to the grant funding, the PMFE entrepreneurs engage in a rigorous curriculum created by Black and Brown Founders with support from Jos Duncan Asé, executive producer and publisher of Love Now Media.
"This curriculum is structured in a way that allows us to see ourselves as official businesses instead of sole proprietors," said Cobbina Frempong, multimedia journalist and owner of Green District Media, a video production company that centralizes in expansive visual storytelling about marginalized communities.
The coursework consists of community-powered reporting, branding and marketing, strategies for raising capital, executive leadership, and emotional resilience. The founders are tasked with projects and assignments each week that push them to expand their entrepreneurial mindset and create a solid foundation for their businesses' economic stability. The fellows also spend time with coaches and gain insight from multiple guest speakers like researcher Wilneida Negron, as well as successful PMFE alumni from the previous cohort like Alex Lewis, Charles Gregory, and Shameka Sawyer.
"The curriculum really puts us in the right direction and narrows our focus to projects that will allow our business to propel," Russell said. "This gives us new limits as start-up entrepreneurs and I really believe that this strong foundation will set my business up for success."
Networking and community support
The Founders Exchange also includes virtual and in-person gatherings where the fellows are able to collaborate with their fellow PMFE fellows as well as gain a network of support from PMFE alumni.
"I went to two or three of the informal outings and I got to meet my fellows in person which was amazing," said Phillip Roundtree, founder of Quadefy LLC, an organization which focuses on wellness media and services. "After interacting so often on Zoom, it was a pleasure getting the opportunity to sit down and get to know them on a personal level aside from being business professionals."
Though there are plenty of opportunities for the fellows to mingle with the cohort through informal bonding exercises and mixers, the founders expressed interest in more career-driven outings and structured professional programming. Since the check-in was conducted, the fellows were able to participate in a major professional development event, the PMFE Revenue Summit, a day-long event which invited current and past fellows to engage in multiple skill-building workshops to stimulate ideas for revenue generation.
Although the 2023 fellows are past the halfway point of the program, the goal is to continue connecting them with resources and opportunities that will ensure their success beyond their graduation from the program in June.
"I am forever grateful for this program," said Arianne Bracho, executive director of Centro Integral de la Mujer Madre Tierra, a media platform that informs the Latinx community with news and information regarding social issues. "I was welcomed with open arms by people who genuinely cared about me and my mission. It gave me a community I can learn from, lean on, and grow with. I have never felt more supported."