Four tips for print reduction from the Beyond Print Convening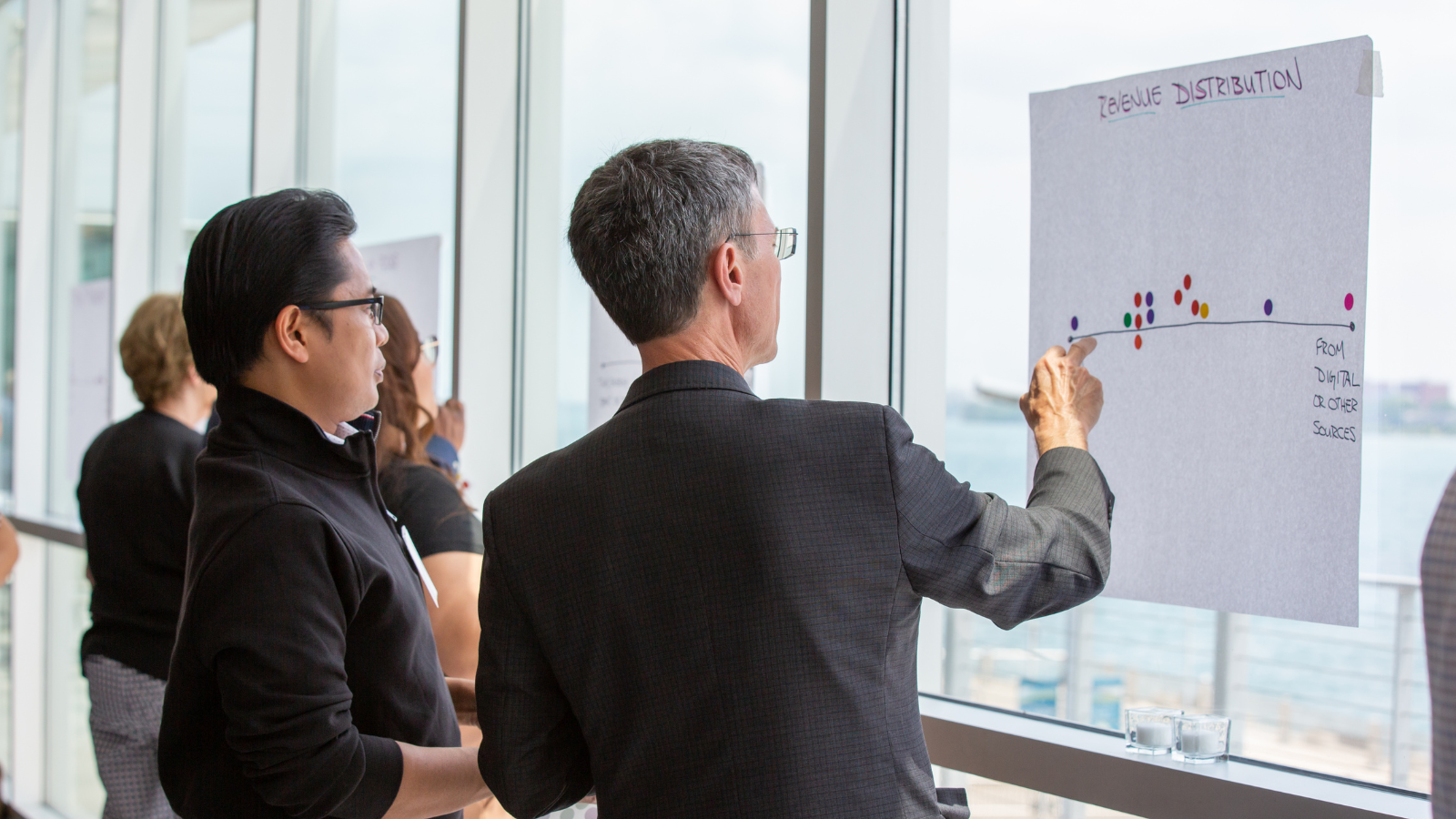 More than 20 news organizations met in Detroit to share best practices for shifting from print to digital revenue models while growing their customer bases.
Driven by both financial necessity and a desire to serve younger, more diverse audiences, local newspapers across the country are learning from the experiences that other newspapers have had in reducing print frequency, both positive and negative. By embracing digital-first publishing, product, and revenue strategies, these publishers are building toward a sustainable digital future that will allow them to continue to serve their communities.
To help share best practices as newspapers make this essential transition while retaining and expanding their audiences, The Lenfest Institute for Journalism and The American Press Institute hosted the first-ever Beyond Print Convening in Detroit in June.
The convening gathered leaders from more than 20 news organizations across the country, including members of the first Beyond Print cohort: La Voz at The Arizona Republic, The Atlanta Journal-Constitution, The Philadelphia Inquirer, and The Seattle Times. Attendees ranged from organizations at the early stages of print reduction to fully digital organizations, and the convening provided space to share lessons learned and ask questions.
Beyond Print is funded by an anchor donation from the Andrew and Julie Klingenstein Family Fund with additional funding from The Knight-Lenfest Local News Transformation Fund, a joint initiative of the John S. and James L. Knight Foundation and The Lenfest Institute..
Over the course of the two-day event, participants shared best practices, lessons learned from their experiments, and ideas for potential solutions.
Some of the key insights they shared include:
1-on-1 customer service can go a long way
Moving away from a daily print product will require customers to adapt, but publishers can help loyal readers make the transition.
Delivering print newspapers to rural areas on the outskirts of its market has become increasingly costly for The Atlanta Journal-Constitution. To help print subscribers become digital-only subscribers, the outlet tested a new program where it loaned an iPad to subscribers for the duration of their subscription so they could access the news daily via the AJC's e-edition, website, and app.
Rather than mail customers an iPad and send them on their way, AJC sent its staff into the community to work with customers 1-on-1, teaching them the basics of operating the device, and showing them all the different features on the AJC website. Senior Manager of Customer Service Joe Wheeler said he tells subscribers: "It's just another way to get news without having to walk outside." The individualized approach paid off — AJC was able to retain 70% to 80% of customers who were switched to the iPad program.
Other news organizations have conducted similar 1-on-1 initiatives to help readers make the shift to digital: The Denton Record-Chronicle's individualized outreach helped it win back more than half of their lapsed subscribers within a few months. The San Diego Union-Tribune partnered with the San Diego Futures Foundation to hold free community digital workshops at public libraries and community centers. The Union-Tribune's presentation was on accessing news in the digital age and highlighted the digital content available on their website and their eNewspaper.
Similarly, after moving to a nonprofit model, The Salt Lake Tribune switched from seven-day print to printing just one day a week with a daily e-edition. The Tribune made the move in 2021 out of financial need with little time to prepare. With the dissolution of a joint operating agreement, it had to staff a call center. The Tribune quickly learned that having a call center that was able to handle digital needs from an older reader was imperative, and utilizing top-of-market digital vendors was also important. At the height of the transition, representatives were fielding around 1,000 calls daily. After proper staffing and better vendors, its readers have since adapted and the volume has decreased.
New brands and products can help engage existing and new audiences
News organizations are finding that diversifying their product offerings can help bring in a diverse array of readers and businesses, creating pathways to revenue through subscriptions or sponsorships.
This past year, Alabama Media Group, which published four newspapers across Alabama and Mississippi, completely eliminated print thanks to its wide selection of news products, which offer local news, nationally relevant content, podcasts and video, exclusive sports coverage and lifestyle content.
AMG began building up its "portfolio of brands" years ago, and thanks to constant experimentation and audience feedback, it was able to find new revenue streams that could make up for the loss of print revenue, including ads and subscriptions. Even with so many new product offerings, the AMG team understands the need to continue to produce high-quality journalism — this past year, it even took home two Pulitzer Prizes.
Similar initiatives to expand brands and readership are popping up at other news organizations. The Atlanta Journal-Constitution has developed new products like Access Atlanta, its entertainment and lifestyle brand for younger audiences, and Unapologetically ATL, a free newsletter serving the Black community.
Alabama Media Group Vice President of Content Kelly Ann Scott advised news organizations to shift their mindsets from surviving to building: Think about what you want the organization to be. Start testing new ideas as soon as possible before print becomes totally unprofitable and you have to make the transition without preparation.
Mail delivery can help with carrier challenges
Carrier services are expensive and often inconsistent — especially since the pandemic began and caused a shift in the job market. This is more common for customers in more rural areas. To cut costs and ensure that all subscribers omers are guaranteed their newspaper, some news organizations are switching to mail delivery, which by default eliminates the Sunday paper since the United States Postal Service only delivers six days a week.
For news organizations like The Seattle Times and The Philadelphia Inquirer that still have higher rates of print readership, mail delivery can help prolong the viability of their print products, especially in rural areas outside of the core market that carrier services have a harder time reaching.
However, with no mail delivery on Sundays, publishers turning to mail delivery must rethink their Sunday print editions, which are still the largest issues of the week. To address the loss of a Sunday paper, some organizations are turning their Saturday paper into a "weekend edition."
But making the switch to mail delivery is not without its challenges: Customers often expressed frustration at receiving their newspaper when their mail arrives, not first thing in the morning. They might also be reluctant to continue paying the same rates for one fewer day of service. Additionally, newspapers being delivered via mail have to be taken to the post office earlier, giving reporters earlier deadlines and changing what kind of content goes into the final product.
"If you're going to have a foot in both worlds — home delivery and mail — you're basically standing up a whole other publication," said Curtis Huber, senior director of circulation and audience revenue at The Seattle Times.
News organizations considering making the switch should examine the amount of resources needed to modify the product for mail delivery along with how much money they're saving and whether it's worth the risk of cancellations. Creating a robust external communications plan and seeking customer feedback can help bring subscribers on board with the transition.
Transparency and regular communication is critical
Throughout the convening, news organizations of all sizes and types expressed the importance of transparency throughout the process of reducing print frequency.
Internally, some journalists may not be able to imagine a world beyond print. Both Seattle Times Senior Vice President of Product, Marketing and Public Service Kati Erwert and Scott of Alabama Media Group advised finding the early adopters within the newsroom who can encourage other people to get on board as you make any cultural transformation. Scott said transparency among leadership and providing talking points for conversations with readers also made the transition smoother.
Externally, news organizations should expect that some customers who feel deeply connected to the print product may be hesitant about the changes. But keeping them engaged in the process and showing them how the digital products also meet their needs can go a long way.
Customer service is just one part of the equation, usually taking place after the transition begins. But at all stages of the process, it's important to engage your audiences, especially when developing digital alternatives to print. Loyal readers understand the value of the journalism being produced, so show them how reducing print can save money, which in turn, will help sustain this critical work digitally in the years to come. Both Alabama Media Group and La Voz, the Spanish-language publication at the Arizona Republic, have made focus groups an integral part of their work so readers can feel engaged in the creation of new digital products.
As AJC Senior Director of Strategy and Innovation Rodney Gibbs put it: "There may be bumps along the way, but your print subscribers can come along with you with a little TLC."
Photos by Julianne Lindsey.
---
Beyond Print is funded by an anchor donation from the Andrew and Julie Klingenstein Family Fund with additional funding from The Knight-Lenfest Local News Transformation Fund, a joint initiative of the John S. and James L. Knight Foundation and The Lenfest Institute for Journalism.
The Lenfest Institute, a key design and program partner, has been publishing lessons and best practices from the Beyond Print cohort to help share resources with other news organizations working to create digital-first revenue streams. You can find all the updates here. If you would like to receive upcoming insights and updates, please complete this form.